Medical Waste Disposal Services
For over 20 years we have been providing wide range of medical waste disposal services. Family owned and customer driven, we are rooted in the communities we serve.
National Bio-CARE Quote Submission

Medical Waste
Simple, uncomplicated, solutions for your medical waste,  with no hidden fees,  using HIPPA secure manifesting system.

Pharm Waste
You got enough to think about! We provide cost efficient "Cradle to Grave" compliance for your expired medicine and Pharmaceutical

OSHA Compliance
Training and certification you need.  Easy sign up with interactive programs keeping you company and employees in compliance.
Trusted, Reliable, & Professional
EPA Approved Treatment Facility & Modern Fleet
Family-Owned & in Operation since 1997
Fully Trained, Licensed, and Uniformed Drivers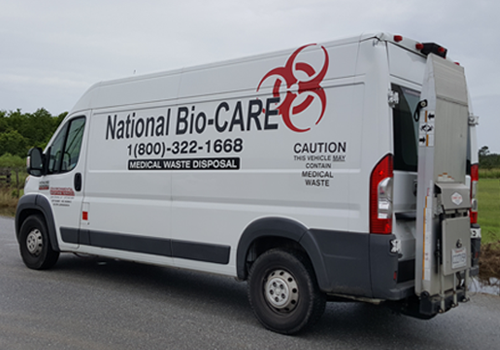 Frequently Asked Questions (FAQ)
Here are some of the questions people frequently asked. If you have a question that isn't addressed here, please give us a call at (377) 562-1668.
What do I do with the sharps containers?
Sharps are the needles, lances, scalpels, broken glass, etc. that are contaminated with blood or bodily fluids. These need to be placed in the approved sharps container. When full, close the top and secure with locking tab. Tape close to be sure the container doesn't open during handling and transport. Place the full sharps container in provided disposal box or tote.
Why do you cost less than the other companies?
We charge you for the services you need, not for a bunch of stuff you don't need and will not use. Additionally, We don't have the overhead like the big boys in the market do. We use smaller trucks, so we are more efficient getting in and out medical offices and around town. We have less corporate heads to pay, and we operate as a small, family run, and locally operated company. This all adds up to savings passed on to the customer.
Do you provide the red bags?
We provide the cardboard disposal box which comes with a leak tight, red bag for you to put your exam room / lab area waste in. For the individual waste cans in each of the procedure areas, you should order those from your medical supply company, it's less expensive and they carry a large quantity of different sizes.
How much does your service cost?
It depends on the type, quantity, and frequency of waste to be picked up, as well as location. Some of our services cost as little as $19.00 month. Some customers have the full suite of services, twice a month pick-up, with multiple containers and pay $350 a month. Please fill out the quote request form and we will contact you about your waste disposal needs.
Click Here to get a Fast, FREE Quote!
How Soon Can You Come?
Usually within 7 days. We have regularly scheduled, dedicated routes. We can place you on the soonest available pick up in your area. We also offer emergency, off route services as well. Please contact our Route Manager for more information.
What do I put in the medical waste transport container?
You should check with your company policy and procedures and see if this is specifically outlined. A broad answer to this is:
1) take the red bag form the individual rooms and secure it closed with tape, or tie a knot, then place in the container.
2) sharps container with lid closed, and taped to prevent accidental opening, can be placed in the transport box or tote.
What do I do with the expired pharmaceuticals, or drug samples?
PLEASE protect our environment and do not flush down the drain, Do not put them in the medical waste bins. Please contact our office and we will assist you. Most expired medicines can be disposed of with minimal effort. We have a special container for pharmaceuticals. Some of the schedule/classed drugs must be handled by a DEA approved contractor. Whatever you have we have your solution!
Work with a Trusted, Local Company That Cares!
Testimonials
We are committed to our clients and making sure they receive nothing but the best service from us. Here is what some of our clients are saying!
Adam was amazing! He was top notch professional and fast on our special needs scene. Forever grateful!
Project sourdough Teasy one
17:58 11 Dec 18
I work at the Golden Nugget in Lake Charles. Mr. Adam Manuel always has a positive attitude and takes care of the

business. I highly recommend National Bio Care, Lake Charles . Thanks Adam,Cindy Wolfe

read more
Cindy Wolfe
21:11 07 Dec 18
Our guy is Randy Fontenot, he is our go to guy. He always has what we need or ask for. very nice and polite.
Jasmin Walker
19:00 03 Dec 18
Adam Manuel is my go to guy. Anytime I need to make changes or add a new account, he gets me my information right away.

He always keeps our scheduled meeting appointments, especially when dealing with handling different disposals. He accommodates all our satellite offices as well. Thanks Adam, for all your help @ Imperial Health-Lake Charles LA.

read more
Quiyana Chambers
17:59 03 Dec 18
When we needed to transfer an account after purchasing a practice our specialist, Adam Manual, was incredibly helpful

and a delight to work with! He was professional, friendly, and got everything taken care of in such a timely manner. Thank you Adam!

read more
Katie Meaux
21:23 29 Nov 18
Mr. Randy Fontenot is very professional and extremely nice. He brightens our day when he stops by The Pediatric Center

in Moss Bluff. Thank you so much!!

read more
becky watts
14:15 29 Nov 18
Randy Fontenot is always professional, always courteous, and always on time! We at the Children's Clinic appreciate

you, Randy Fontenot, for your great service!

read more
Cole Savant
20:01 21 Nov 18
Randy Fontenot does an excellent job!! He is always nice and greets us with a smile !
Tina Blanchard
18:36 21 Nov 18
NBC is always professional and always here whenever we need them. Thanks Randy Fontenot for your excellent service to

The Calcasieu Parish Coroner's Office.

read more
Bridgett Johnson
15:36 21 Nov 18
This guys do phenomenal work and go above and beyond showing so much respect for the situations they are placed in, not

to mention how they show ultimate professionalism ! Adam Manuel and crew are highly recommended !!!

read more
Bryan Fowler
17:05 06 Oct 17
This Neil, My wife and I own this business. If you need great profesional service at a fair price give us a call. We

provide medical waste disposal services, clean-up at a trauma/crime scene, disposal of USDA "Regulated Garbage" from ships and planes that have come from foreign ports.

read more
Neil Clark
20:38 10 Jan 10
P.O. Box 4288 Lake Charles, LA 70606 USA
Lake Charles
8583 Joe Ledoux Rd
Lake Charles, LA 70605
NOLA Medical Waste Disposal